This is what overcoming your fears looks like...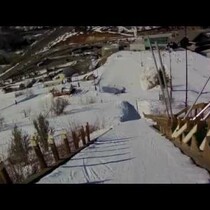 Posted March 3rd, 2014 @ 6:56am
After watching the Olympics a few weeks ago, I couldn't help think "What is it like the first time they ride down that giant ski jump?!?" Turns out, I was not the only one.
Here is a video of a girl riding down the giant drop for the first time... and it is AMAZING. Kudos to her, especially with all those kids sitting at the bottom of the hill watching.