Miley Cyrus and Katy Perry Lock Lips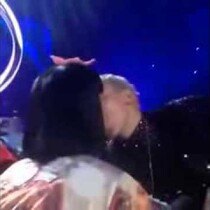 Posted February 24th, 2014 @ 2:35pm
Miley Cyrus kissed Katy Perry during her Bangerz Tour stop at Staples Center in Los Angeles.
Pics and video caught Miley and Katy's kiss and it went viral instantly.
Miley was performing "Adore You" when she leaned over the stage and got it on with Katy.
After the smooch, Miley told the crowd: "I just kissed a girl and I really liked it a lot."